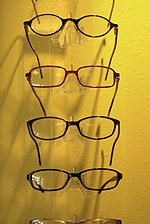 When you choose what eyewear to buy, it's not only about seeing well, your eyeglasses can be a fashion statement, defining how the world sees you. Our Lumberton opticians understand the significance of this decision, and can help you buy the right pair that meets your vision correction needs, looks great on you, and suits your budget and lifestyle.
Stop by TSO Lumberton eye care center any time to try on eyewear and consult with our friendly and knowledgeable staff. From eye care services, your eye health to lenses and frames we can explain the impact it will have on your vision. They will help you narrow down your choices so you can find the look, fit and functionality you want from your eyewear.
Lumberton Eyewear and Contact Lenses
We offer a large selection of eyeglasses, contact lenses and designer frames and sunglasses. We carry the latest European and American designer eyewear collections in a variety of styles, colors and materials including titanium, stainless steel and plastic.
If you need an updated prescription or contact lens fitting, you can have an eye exam right here with our Lumberton optometrist. New clients and all our current patients are welcome to visit us with their current prescription – no appointment is needed to buy glasses.
Eyeglasses and Contact Lens Collection Lumberton: